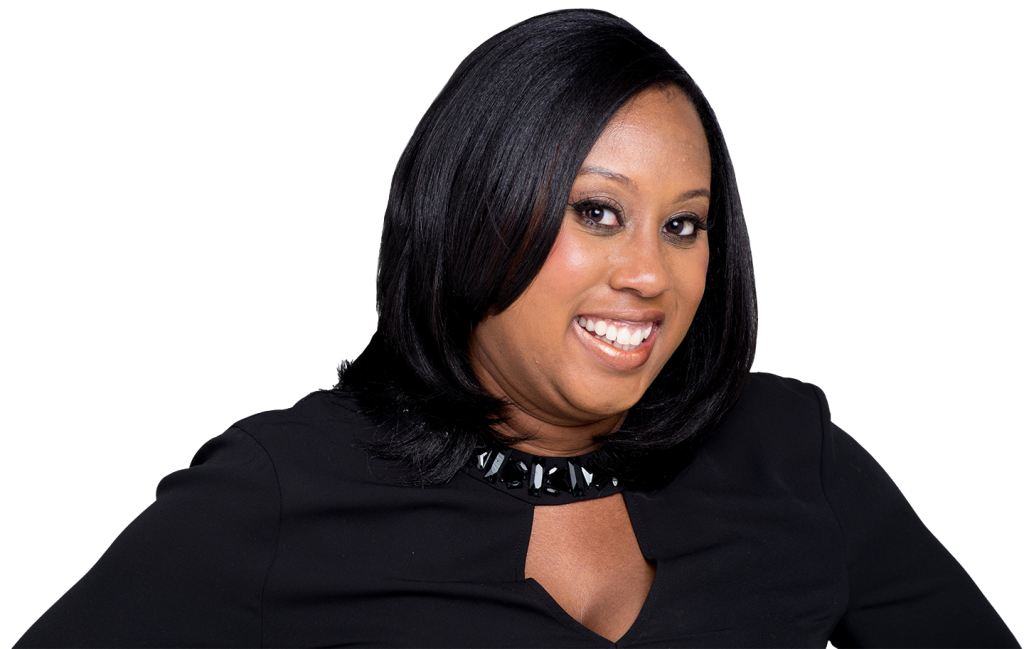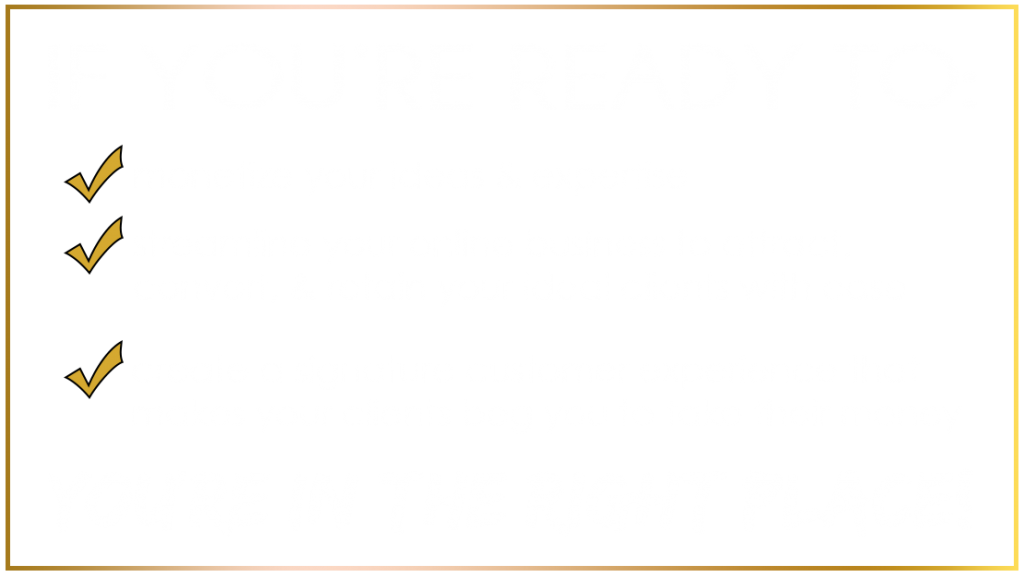 5 Day Profit Clarity Challenge: Be Seen,
Be Heard, & Get Paid.


You don't have multiple streams of income, so you constantly worry about if your bank account is going into the negative. You are trying to figure out how to make your PayPal notifications sound off daily.
You want to know how that whole "passive income business" works. You hear online business leaders talking about "making money while you are asleep, on vacation, or just taking the day off", but you are almost skeptical of the whole concept.
You are stuck in a financial rut because you don't have services, products or packages to offer that your ideal clients want.
Hell, you still need to define your ideal client. You know whom you want to work with, but niching down makes you feel like you are going to be leaving money on the table because you feel like you are meant to work with everybody.
You are burnt out from the 1:1 business model and you are ready to leverage your expertise and move to the one to many platforms. Hosting group programs and creating digital programs sounds like music to your ears.
You don't have systems or processes in place to manage and grow your business like a pro. You are still piecing your biz together after each and every client you acquire hoping and praying that everything goes well, and you will make time later to get everything in order.
You have several ideas, but you don't know how to monetize them, and marketing makes you want to run for the hills.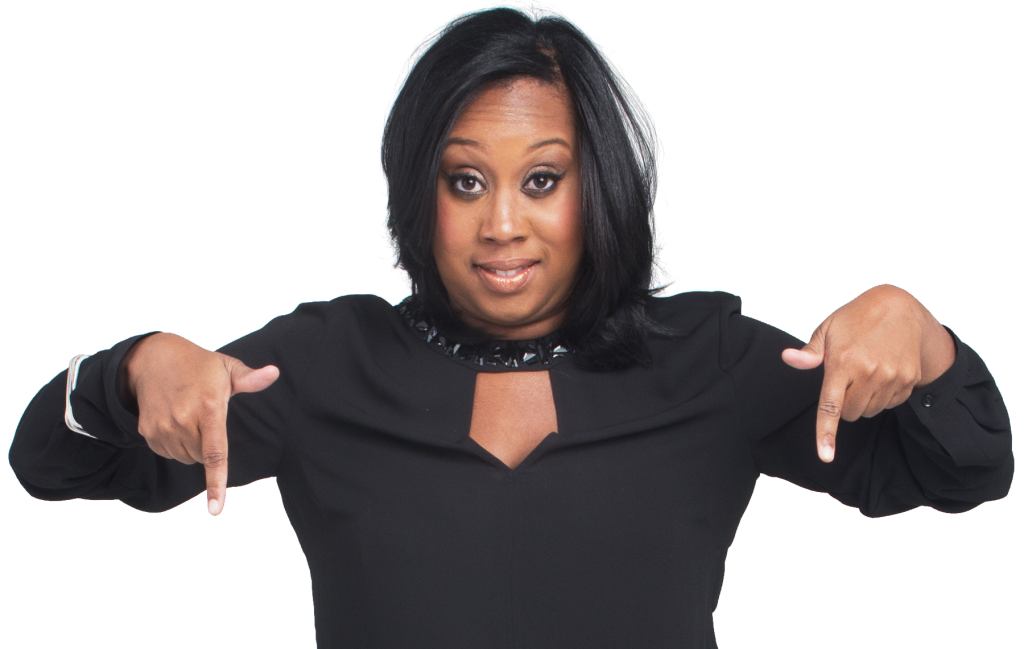 You know you need to learn how to run an online business, create graphics, write copy, create sales funnels, figure out email marketing, learn Facebook ads, and the whole nine yards, but all of that overwhelms you.
You aren't being seen, and you don't know how to articulate what you do so that the client sees value in your work. Instead, you attract people who are lukewarm about achieving their goals and are always on the fence about making a decision to work with you so that you can finally start to pay your bills on time.
You are sick and tired of working hard with little to nothing to show. You do ok but ok is not good enough.
You are ready to smash your goals and not apologize for the level of success you achieve. It's high time that everything worked out for the good.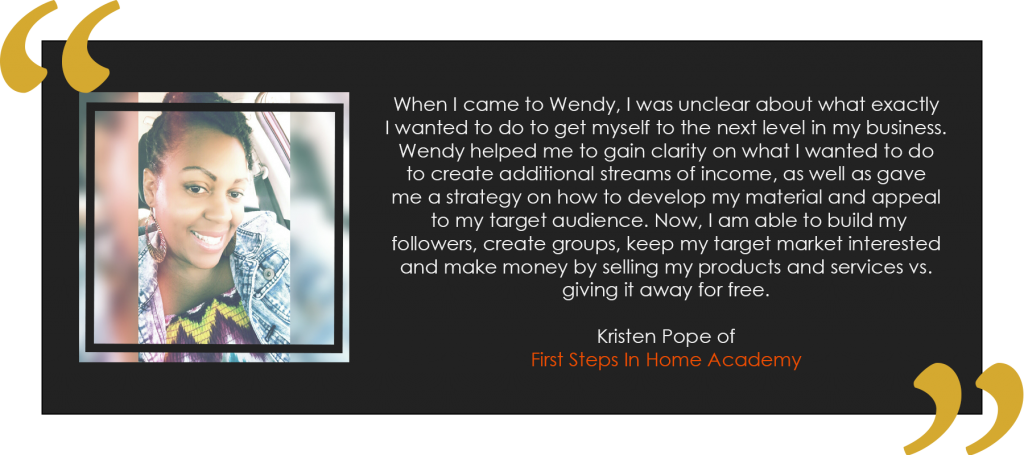 THE FINISHERS CIRCLE
A 12 Week Growth Incubator for service based entrepreneurs who want to work smarter + make more money. This is for you if you are ready to monetize your expertise and launch BIG in 2017. 
You thrive in an environment where you are pushed to be your best. You have been searching to share the room with like-minded entrepreneurs who are on the brink of a breakthrough and have accomplished notable success. You need answers, and you are ready to hit the ground and implement what you have learned as an entrepreneur and take your business to the next level, but you are not willing to do it alone.
You are burned out on conferences, tired of taking courses that over-promise and don't deliver, and you are over hiring coaches.
You are looking for an intense high-level experience that will alter your perspective and inspire you to operate in your zone of genius daily. You are ready to be an idea churning implementation queen. You don't have any excuses. Why? Because you are focused on what you can create. You are looking for best practices that will help you shorten your learning curve and get results now vs later. You want to work in an environment where success stories are created not spend countless hours creating theoretical game plans and massive to-do list.
If you are looking to focus on your goals for the next three months and you can benefit from a hard dose of accountability and like the sound of an implementation lab where no excuses are welcomed, just clarity and collaboration this is for you.
Who is the Finishers Circle For? An elite tribe of thought leaders and trailblazers who are destined for greatness. You know you are different and you excel at everything you do. You have reached a breaking point in your life and business and quite frankly you have been performing at subpar levels. You desire to be stretched. It's important that you aren't the smartest person in the room anymore because you desire to grow.
You've been working on several projects but nothing is finished. You either have been overthinking your concepts and allowed them to become stagnant or you have too much on your plate and you aren't sure what to focus on, but you know you have to start moving and you want to ensure that every decision you make from here on out is systematic, divine, and will position you to create fail-proof opportunities for your business. You are ready to be fearless, heartfelt, and embrace a work-life balance lifestyle.
You envision yourself as being a person that finishes what you start. You crave execution and consistent success in your business. You have an extraordinary mind and you want to be compensated for it. You want to expand your impact and work with more people in less time. You are looking for an intimate learning experience where you can share your zone of genius and sharpen your ax. You need to BE Heard, Be Seen, & Get Paid. You are ready to step outside of your comfort zone and embrace change because it is time for you to show up and take over. You know that their are levels to your greatness, but you aren't sure how to tap into it and you need someone to tap into your purpose and make it plain.
THE DETAILS
WHAT TO EXPECT:
Weekly 45 Min Strategy/Implementation Sessions with recorded playback

Weekly Accountability Check-ins + Get Your Questions Answered in real time via Basecamp (project management system)

Personalized Client Success Path Game Plan

Quarterly Revenue Growth Plan

Signatures Systems Designed to help you manage your growing business with ease

A 2 & 1/2 Day In-Person Business Growth Intervention in Atlanta, GA fully loaded with a professional photo shoot, a celebrity make-up artist, 90 minute facial from Signature 5 Skincare + products, a sales and marketing intensive designed to help you craft marketing messages to get your audience to open their wallets, hot-seats so that you leave with business deals mapped out and done and gourmet catered lunches. Dates TBD and based on your enrollment. The professional photoshoot will come with two streamlined looks for you to use for promotional purposes.
Signature Systems Done For You Set Up
New Client + Prospect Intake Forms (Questionnaires) Automation Set Up

Done For You Advanced Systems + Sales  Hacks Templates

Email Nurture Sequence Automation Set up + Templates
WHAT YOU WALK AWAY WITH:
New Programs & Digital Products To Sell

A Business Redesigned to Make You Money

Clarity + Confidence To Grow Your Business
30 DAY CUT THE CRAP PROFIT CLARITY BOOTCAMP
You are a pro at what you do, but you don't have the right insight or resources to help you:
position your brand for optimal growth

create a visibility and marketing game plan

clarify and define your niche

establish systems and processes to automate your business
You are ready to take charge of the sales conversation and start asking for what you are worth with no hesitation.
You are ready to attract people who will pay for your services and are tired of attracting clients who are not serious about growing their business.
You are not interested in a long drawn out coaching program. You want answers like yesterday, and you need someone to hold your hand while you implement a plan of action that is in alignment with your goals.
You want to work with someone who is going to listen to what you have to say and give it to your straight. No b.s. just answers.
If you are ready to take yourself and your business seriously, I've got you covered.
THE DETAILS
Our time together will be focused and structured. The goal is for you to walk away from this experience with things done. You are getting my 1 on 1 time and specific insights and support for YOUR business. In 30 Days, you will learn the WHAT and the HOW of what your next steps should be to grow your business.
Here is what we will cover:
Week 1 – Profit & Brand Clarity
Week 2 – Visibility, Social Media, and Website Optimization
Week 3 – Implementing Systems and Processes to Sustain and Grow Your Business
Week 4 – Marketing Game Plan
WHAT YOU WALK AWAY WITH:
A clear plan of action on how to optimize your sales conversations, systems + processes needed to scale your business, social media, sales funnel and website.

A peace of mind, confidence, and clarity on what steps to take your business to the next level.

Implementation, focus, and support
WHAT YOU GET:
New Client + Prospect Intake Forms (Questionnaires) Automation Set Up

Done For You Advanced Systems + Sales  Hacks Templates

Email Nurture Sequence Automation Set up + Templates
WHAT TO EXPECT:
(4) 45-minute strategy + Implementation Calls (Yes we will do the work live and together)

Personalized Training Video Tutorials to Help/Teach You How to Grow Your Biz

Call recordings to playback when you need inspiration

Weekly Accountability Check-Ins

Unlimited Feedback & Support for 30 Days

6 Week Operation Get Sh*t Done Implementation Lab
You've got this business idea stuck in your head, but you are not quite sure how to articulate it or how to make it work. You need to talk it out.
I'm a natural idea decoder who quickly understands your language, cleans it up for you, and helps you define what next steps to take to manifest your vision. Because you can't attract your ideal clients if you can't communicate your thoughts.
If you're looking for someone to help make building your business effortless, insightful, and fun, you're in the right place.
You have a vision for your business, but you need clarity, a game plan and someone to bounce your ideas off of. You want to get down to business.
This is for if you are ready to turn your idea into an organized step-by-step operational plan so that you know exactly what you need to do to monetize your efforts. You want accountability and for someone to help you course correct when you are not sure what your next steps should be. You could benefit from an extra set of eyes overseeing your business growth needs over the next six weeks. Implementation is what is missing from your equation NOT more information.
The 6 Week Operation Get Shit Done Implementation Lab is an exclusive business growth incubator designed to give you the accountability, real-time feedback, and support you need to smash your goals!
WHAT YOU WALK AWAY WITH:
A clear plan of how to optimize your sales conversations, systems + processes needed to scale your business, social media, sales funnel and website.

It's an opportunity to get your burning questions answered regarding managing or growing your business.

Access to a business growth incubator to collaborate with other seasoned professionals + entrepreneurs so that you don't build your business in isolation
WHAT YOU GET:
A high-level game plan to establish smart business success systems that will empower you to attract, convert, and retain your ideal clients.
(3) 45 Min strategy sessions where you lay out your big picture, and we devise a practical plan of action.

Recorded replay to listen to for inspiration and guidance + session notes

[Bonus] Access to A Private Facebook Group to get your burning questions answered in Real Time

[Bonus] Weekly Accountability Check-ins +Feedback

(2) Two Live Group Q&A Video Chat (Zoom) Sessions
NOT SURE WHAT LEVEL OF SUPPORT YOU NEED?
Book Your 30 Min Complimentary Session, and let's talk about your business and Goals.

Basheba Maiden, Relationship Strategist
John Stephens, Creative Director of Jas Photo